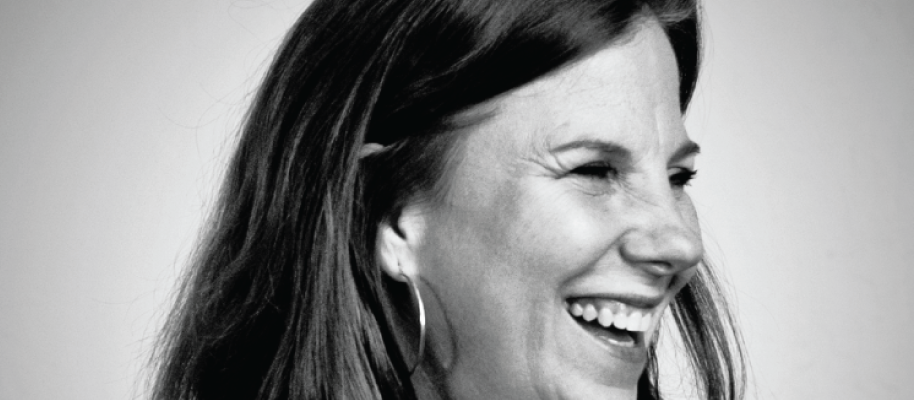 Innovators
Nancy Duarte's pep talk on powerful presentations
Last edited: Aug 22, 2022
Published: Jun 15, 2016
When it comes to giving a good speech, the stakes are high whether you're standing in front of investors, customers, or your team. It's not enough just to think through your talking points. You need to practice how you communicate your ideas and the strategy behind inspiring your audience to act.  This is what I learned from Nancy Duarte, the world's leading expert in professional storytelling and chief executive officer of Duarte, the presentations services agency.
We've given you some great role models on how to give a killer product talk, so to add to this school of thought, we've brought in the big wigs. To put it simply, Nancy is a Silicon Valley legend.
In her famous TED Talk, "The Secret Structure of Great Talks," Nancy dissects and diagrams famous speeches, like Steve Jobs' iPhone announcement in 2007 and Martin Luther King's "I Have a Dream." In her research she finds that every impactful speech is made up of four components: what is, what could be, a moment to remember, and the promise of "The New Bliss."
Many continue to follow her stalwart structure of a speech, and now there's new development in the art and science of presentations. In her new book, Illuminate, Nancy Duarte (and co-author Patti Sanchez) uncover the research behind transforming ideas into vehicles that enact real change.
I had the opportunity to ask Nancy about her path to becoming the world's leading expert on presentations and how data is changing storytelling in tech. But Nancy revealed to me that ideas in the workplace are in more danger than we realize, and data is a tool to save them. How we give a good speech, and the data we focus on, can give an idea the chance to thrive.
Path to presentations
"A lot of people think I pursued presentations, but I like to say that they found me," Nancy told me over Google Hangouts. She's been a fixture in Silicon Valley for an eternity (in startup years). Her presentation agency, Duarte, cut its teeth on one of the the Valley's biggest players – before they were a household name.
"We won Apple as an account in 1988," Nancy said, "They were the first company to hook up a projector to a computer at scale at a conference, and back then we weren't on PowerPoint or Keynote, of course. We were on 35mm slides.
"Even though we thought we would be a technical illustration company – my husband's skill – we started doing presentations right away. Then in '92, Apple had huge layoffs and all of my clients who worked in this one huge division scattered all over the Valley," Nancy said. What seemed to be a loss of business actually turned to an influx. Due to network effect, the strong relationships Duarte built at Apple were now calling from their new companies.
"In 2000 when Jim Collins' book, Good to Great, came out, that really changed things for us." Nancy paraphrases Collins' Hedgehog Concept from memory saying, if there's one thing you can do, and you can be best in the world at it, be profitable at it, be passionate about it, then you have to do that one thing.
"After reading his book, that's when we decided we were going to cut all our other services out and just focus on presentations. It's definitely been a journey, and we feel lucky to be the ones that tumbled through time and became the master at what we do."  
The rise of elaborate presentations in tech was in tandem with the escalation of technology and software eating the world. There was never a shortage of work to be done in Silicon Valley, and once Nancy and her husband's children got through school, they set Duarte's sights on making a mark globally in 2006.
The Technology, Entertainment, Design Conference (a.k.a. TED) rose out of the tech industry's penchant for "slide envy", as Duarte says, and moments and messages that resonate. Duarte was growing globally the same year TED posted their first talks online in 2006. By 2012, TED Talks had 1 billion views globally, and Duarte's style of presentation was growing in popularity alongside
A year later, Apple revealed the first iPhone. This was no press release. Steve Jobs' keynote at Macworld demonstrated the power of a product launch's presentation, and its ability to capture an audience's attention and sway consumers.
Today we continue to see the impact streaming presentations can have on internet philosophers, citizens, or developers and customers, whether it's a TED Talk, the State of the Union, or WWDC 2016.
Insider knowledge
As innovation became less focused on hardware and more on software and code, the Duarte shop saw a huge need in the market to visualize software solutions which were often times invisible to the average customer or user.
"It's through the process of visualizing technology concepts that they become more understood," Nancy said. "Helping people become more fluent in these complex subjects begins with drawing these concepts out.
"When working with a client, we make place mats out of 11×17 sheets of paper where we co-create the visual. When visualizing a complicated idea to an audience, sometimes it's just taking shapes, arrows, connecting nodes, and talking about how things work as a system. Presentations are about creating incremental amounts of meaning and using an image to gain consensus within a group."
Whether you're trying to depict what your technology actually does, or illustrate your company's data in an impactful way, all storytelling has the same starting point.
"It's important to begin with empathy. People that deal with data a lot are often stuck in the weeds. For example, it may take two years to find one great big insight from tons of research and data. But unfortunately, sometimes, the audience doesn't care about all the depth of research data you've collected and analyzed. They want to hear the insights.
"People have a hard time murdering their darlings. They have a hard time picking what idea to keep and what to let go, but empathy reminds us to answer a few questions:
Who am I talking to?

What do they need for their next big decision?

What's the answer I have for them?"
Answering these three questions before building out a presentation is a good starting point, especially when empathy (though crucial) still feels like a vague sentiment when compared with the hard, cold facts. In an age where people love to talk data, I wanted to learn about the most common mistakes when presenting with it. What Nancy told me might offend the data purists out there, but it's important to remember that the art and science behind giving a presentation isn't always tethered to the scientific process the data came from.
Storytelling with data
For the data-obsessed, it might feel counter-intuitive not to show off all the graphs or histograms you can possibly muster, but effective communication is often knowing the right amount of information to share within a given time.
"Sometimes we feel like the data will just stand on its own," Nancy said. "Data can do that, but if you're a data purist, you plot everything as if it's of equal value. You're not supposed to highlight something over another.
"But that's where I think many people are wrong," she continued. "If you're presenting the data, you have the right to have a point of view on the findings in the data. Instead of projecting illegible graphs or handing out reams worth of data to your audience, you need to learn how to curate and lift a story out from the data.
"There's narrative to be found, and it's about cutting out the rest. Knowing what darlings to kill to pull out the insights is key in finding a story, and figuring out what will resonate with your audience."  
But too often those who are close to the data need greater perspective, Nancy told me: "There's a gap between creating the data and then turning the data into compelling communication. Collecting and culling the data is an analytical process whereas presenting and visualizing the story behind the data is a creative discovery. They are two very different processes that require different mindsets. Some people can do it, and some people can't, which is why it's important to know your strengths. If there's someone else on your team who does it really well, then they can interview you, and help you spot the trends that bubble up."
"At that point, we teach our presenters to obsess over the audience and select the right data for the message you're trying to send."
Rest assured, if people want more information, you can create an appendix and share the research in another format.
"Strong storytelling through data is about emphasis and contrast in hierarchy," Nancy told me. "It's about minimizing the less important parts and maximizing the ones that you want the eye drawn to.
"Anything projected, particularly data visualizations, needs to pass what we call a '3-second rule,' meaning a graph is legible and understood within three seconds.
If your data is so complex and so visually overwhelming, your audience will be trying to figure out what they are looking at, when they should be listening to what you're saying."
Because when you have a captive audience, your one objective isn't just about conveying a message, but a message that inspires a team to act, and gain traction toward a certain mission.  Whether your startup is profitable, or you feel like a seasoned entrepreneur already, it's easy to forget the fundamentals. However, the art and science behind a presentation is far more nuanced, and its intangible impact can't be measured by audience applause alone.
Measurement beyond applause
The success of a presentation is difficult to track. A presentation is a fundamentally offline experience; traditional KPIs for the web, like clicks or impressions, don't apply, and it's not enough to gauge your success based on applause.
At Duarte, Nancy's team has conducted several tests around the measurement of presentations and the best ways to measure impact.
"Some people would say, 'oh, if you get a lot of tweets during your talk that's a good and measureable sign'," said Nancy. "But I actually think it's the opposite. If the Twitterverse is completely quiet, that means they were enthralled. Then, if you seen a huge uptick on social right after the talk, you know people were actually listening.
"There's software out there to measure and rate speakers. You can even embed a survey within your presentation and have people text you their answers," she said.
"Not many companies or people pay for audience research anymore, but if it's a big staged event, like CES, enterprise companies will sometimes have researchers stand outside of the venue and do live and in-person, or even video surveys, to get honest feedback. But the success of a presentation can have several different metrics – number of tweets, news coverage, sales leads etc.
"Personally, my heart and soul has its own Richter scale, which determines how successful it was," Nancy told me.
"People who are on a speaker's circuit or experienced in front of crowds can probably relate. "When I can see the expressions on people's faces, when I can see them touched, when they come up afterwards and they give me feedback," Nancy continued, "there's just no feeling like really nailing it.
"I can actually feed off of the energy in real time. When they're energized, I'm energized. When they're not interested, the speech feels draining."
So while there are many different proxies to measure the success and impact of a speech, Nancy admits there isn't one sure-fire way. But that's all part of the experience, too. What happens after a presentation, Nancy tells me, is the biggest indication if it did its job.
"For a speech given to your company, one where you're driving change or trying to persuade your team to adopt new habits or get on board with a mission, my measure of a presentation's success is the atmosphere after the talk. How many are committed to your call to action? How many people are resistant?"
Measuring the success of a presentation is far more qualitative measurement than any other work out there, and it requires persistence and consistency.
Because, as Nancy told me, "If you're leading a movement, or you're trying to create change, or you're trying to get your idea adopted, whatever it is you're trying to do, it's not like you just give one good speech and it's done.
"You're constantly communicating along the way. You communicate one-on-one with a teammate, then with a smaller group, and then with an entire company, your board, your investors, on and on. You will reach a moment where you realize one speech requires more energy, attention, and preparation. This is a moment you've anticipated, and realize your message needs to rise above the rest and it needs to be a galvanizing moment."
Those moments don't come around often, but they do require preparation. And even for Nancy Duarte, Silicon Valley's go-to expert in presentations, there's no better teacher than experience itself. Mastery comes with practice.